[SPOILER WARNING: This piece discusses plot points from seasons one and two of Ted Lasso, so if you're not totally caught up and don't want spoilers, wait to read this until later! Also, I refer to "soccer" as "football" throughout the piece because the show's British characters do so, and calling the sport "soccer" in this context felt weird.]
When I began watching the first season of Ted Lasso, Apple TV+'s breakout word-of-mouth hit comedy, at the beginning of the summer, I quickly fell in love with Roy Kent (Brett Goldstein). As someone who prefers a man with a hirsute torso, I thoroughly appreciated the positive chest hair representation.* Goldstein's deliciously terse line readings consistently cracked me up. (The way he spits out the phrase "shape-based jokes" in episode eight might be a season one highlight.) Sure, Roy's irritable and stoic to a fault, but he's not mean. He has a good heart, and his tender relationship with his young niece Phoebe confirms it. As the ladies on the romance novel podcast Fated Mates pointed out in a recent episode, Roy is definitely a romance hero. And like many viewers of the show, I felt the warm fuzzies as his cute and genuinely hot romance with Keely (Juno Temple) sparked over the course of ten episodes.
Roy's not only a romance hero, though. While his relationship with Keely is certainly pivotal to Roy's character development, he's not defined by their romance.** More than anything else, Roy Kent is defined by his anger. He speaks in a low growl (not Goldstein's natural voice), and he's always scowling. He liberally punctuates many of his sentences with profanity, as if he can't quite convey his bottomless frustration without swearing. Goldstein delivers every line as if Roy's angry he has to speak at all; this has, as I mentioned, a wonderful comedic effect, but it's also a key component of Roy's characterization. Through season one, it becomes clear that Roy's anger issues come from an inability to acknowledge, process, and articulate his emotions. He's angry that he has feelings, he's angry that he has to face them, and he's angry that he has to communicate them to other people.
Understanding this character dynamic, when it fully came into focus at the end of the season, sent a disruptive shock of recognition through me. When I was younger, I had anger issues. It took me a long time to realize that all of my furious anger had nothing to do with actually feeling angry. I had lots of other feelings, feelings that I told myself didn't matter and should be stuffed. Those feelings came out as a misplaced, directionless, seemingly inexplicable rage when I could no longer deny them but still couldn't properly express them. I thought that being emotional was being weak, and I'd angrily push people away at the moments when I was the most vulnerable. The last scene between Roy and Keely in the season one finale hit me in a profound way. I, too, have said "stay the fuck away from me" when what I meant was "I desperately need you to hold me." If we're being honest, I still mentally shout an exasperated "Fuck!"—Roy Kent style—when I'm metaphorically smacked in the face with an emotional epiphany. I'm working on it, but anger remains my instinctual reaction when I have to deal with my feelings.
Reflecting on Ted Lasso's first season, I realized that I had never before seen my own anger issues depicted with such painful accuracy on screen.*** I saw myself in Roy Kent, in a way I could not or would not see myself in other, harsher characters defined by their misplaced anger. This new awareness complicated my fun, fangirl infatuation with Roy. I found myself wondering if I desired Roy Kent, in the fantasy way one desires fictional characters, or if I had been deeply identifying with him the whole time and misunderstanding what was happening. Like Loki having romantic stirrings for an alternate timeline version of himself, had I fallen in love with an alternate timeline version of myself?
Both reactions—finding Roy desirable and recognizing myself in Roy—are only possible because of the way the show treats Roy's character-defining anger. It's apparent that his anger issues come from an aversion to being emotionally vulnerable, and it's true that, culturally, we often code this inability as "masculine." We could fairly infer that some of Roy's reluctance to feel his feelings comes from being steeped in a macho sports culture for the majority of his life. But there's a distinct, purposeful way that the show avoids stating any of this outright. Roy's trouble with accepting his feelings is never directly tied to the condition of his being a man.
In a recent piece critical of Ted Lasso's (and Ted Lasso's) brand of aspirational positive masculinity, Time's TV critic Judy Berman pushes back against the recent trend of shows that self-consciously try to craft the "perfect man" for male viewers to emulate. She writes that as long as these portrayals of ideal men refuse to meaningfully challenge binary gender norms, they remain one-dimensional "teaching tools" and not depictions of full-blooded people. Berman concludes that these kinds of characters are ultimately not useful to the work of unlearning the behaviors of toxic masculinity. "Isn't it possible that gender essentialism is exacerbating things?" she asks. "Whether male, female or nonbinary, the characters we need most now may well be ones defined by anything but their gender." I wholeheartedly agree with Berman's larger point, but I don't agree that Ted Lasso is the culprit that she makes it out to be. The discourse around the show certainly perpetuates what Berman talks about, but I contend that there is a way to engage with the text of the show that complicates such surface-level readings.
Roy Kent works as a fascinating case in point. Roy's anger issues can't concretely be linked to toxic masculinity because they're never quite linked to masculinity at all. (Compare what we know of Roy's history to, say, Jamie's. Jamie's relationship with his dad is, I would say, more clearly the "toxic masculinity" storyline of the show if that's a thread for which we're looking.) For this, Roy's character immediately becomes richer, and his journey becomes more complicated. The show takes pains to treat Roy's character-defining trait with nuance and, quite frankly, ambivalence, in a way that would simply not be possible if Roy's anger issues were neatly labeled as a harmful result of toxic masculinity.
By decoupling Roy's anger from masculinity, Ted Lasso assures viewers that Roy Kent isn't a "bad man." This signals two things simultaneously: Roy is a safe character to identify with, and Roy is a safe character to root for in a romance. The moment that Roy's anger issues become unambiguously linked to gender, the whole thing, in my opinion, would fall apart. There's too much cultural baggage. His character absolutely works best outside of a pointedly gendered context, particularly given the pop-culture track record regarding men with anger issues like Roy's.
It's rare to find an angry male character who isn't explicitly a product of toxic masculinity. These types of characters often serve as villains or tragic warnings, men who would rather punch someone than cry, to their own detriment and to the danger of everyone around them. While men don't have a monopoly on anger as a whole, misdirected anger, specifically, is often popularly associated with masculinity. Women are in touch with their feelings, and men aren't. Or, perhaps, women are socialized and expected to be in touch with their feelings, and men aren't. (I'm not a gender essentialist, so you know which one I think it is.) When "being a man" means sucking it up and burying your feelings, it follows that being unable to process emotional responses in a healthy way has become a pervasive problem among men. Denying your emotional responses and developing anger issues can go hand-in-hand. Invalidating your feelings and stuffing them down is like loading a cannon; those feelings are going to explode out in some way eventually, and probably not in the way you mean for them to.
Many pop-culture depictions of displaced anger end up being portraits of abuse and/or abusers, violent men who misguidedly and/or unconsciously overcompensate for their general feelings of hurt by lashing out at people more powerless than themselves. These abusers are the extreme examples of what the unhealthy standards of masculinity can create, and they serve as pop culture's most common form of toxic-masculinity-related cautionary tale. I find it incredibly telling that Goldstein, in an interview last fall with Esquire UK, described Roy Kent as "Bill Sykes, if Bill Sykes had a heart of gold, and wasn't a murderer." Goldstein repeated this comparison in a different interview last month, asserting again that he based Roy on "Bill Sykes if he hadn't killed Nancy." The unbearable English-ness of casually referencing Dickens aside, the comparison speaks to the strong connection in our cultural imagination between misplaced anger and abuse.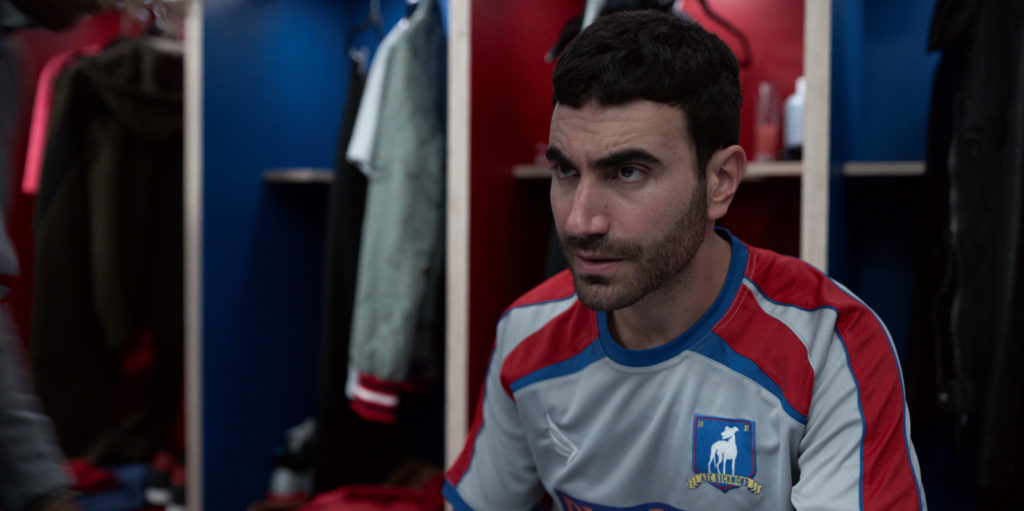 All of this is subtext to which Ted Lasso remains attuned. I find Roy so compelling precisely because he isn't Bill Sykes. He isn't even particularly physically violent. I keep waiting for Roy to punch a wall, even, but he never does. But that is not to say that Roy's anger isn't sharp. Roy's explosive, emphatic swearing has a certain auditory violence to it—which makes a comedic subplot in S02E08, where Roy realizes that he needs to stop swearing in front of Phoebe, metaphorically rich—and often functions as the main indicator of Roy's fundamentally angry state of being.**** In yet another interview, Goldstein likened Roy's physicality to a "walking fist." Even though the Roy we see in the show never acts on any violent impulses, Goldstein's tightly coiled body language does, indeed, suggest that Roy is always a breath away from starting a brawl.
Ted Lasso and Brett Goldstein communicate the violence of Roy's misplaced anger in subtler ways than we might be used to with characters of his kind, but I would argue that Roy's anger, as presented in the show, still has a definite edge. It's been curious, then, to see almost no critical discussion of Roy's anger issues. It's as though, if we're assured that his anger won't result in physical violence, his anger issues aren't that pressing. Much of the writing I've read about Roy Kent doesn't even use the word "angry." Softer adjectives like "grumpy," "gruff," and "surly" do the work of describing Roy's brusque manner while sidestepping the point. Roy's anger isn't a personality quirk, it's the core of his character.
This is where we get to the knotty heart of the matter: Roy's anger is both his biggest strength and his greatest weakness. Anger often serves as the motivating fire in Roy's belly. Over the course of season one, Ted weaponizes Roy's anger to, arguably, righteous ends by goading Roy into putting the unbearably cocky Jamie in his place to restore the balance of the team. (Another perfect line delivery from Goldstein: "Vanilla vodka. Such a child.") In S01E07, when Nate memorably reads the team to filth before a match in Liverpool, Nate tells Roy, "Your speed and your smarts were never what made you who you are. It's your anger. That's your superpower."
Later in that same speech, Nate tells Roy that he needs to let out his anger on the pitch again. "I'm afraid of what [your anger] will do to you if you keep it all for yourself," Nate finishes weakly as Roy glowers at him, inches from his face. Ted Lasso understands this tension, too, that Roy's anger can both fuel and destroy him. While Ted largely works to channel Roy's anger to benefit AFC Richmond (in both seasons one and two), Keely encourages Roy to let his anger go. As their romance develops, Keely gently diffuses Roy's temper and gets him to open up about his real feelings, those vulnerabilities and hurts that he's been suppressing because he doesn't know how to talk about them. She coaxes him into being comfortable expressing his emotions in an honest way instead of angrily denying them.
Through the course of two seasons, Ted Lasso carefully navigates this contradiction at the center of Roy Kent. His anger is an elemental component of his existence, and he has to learn how to deal with it in the healthiest way he can. The show can treat Roy's anger with a certain amount of ambivalence because the harm of his anger is mostly self-directed. He's not cruel or irredeemable, as many of pop culture's angry men are. He's just a human being who finds his feelings frustrating and annoying and would prefer they didn't exist. Learning to validate and process one's emotions isn't a simple journey, and I would argue that Roy's season one character arc isn't simple in the slightest, which is what makes it so powerful. Part of that power is rooted in the way the show stops short of simplistically diagnosing Roy's misplaced anger as a symptom of the harmful pressure to "be a man."
Positioning Roy as the "heterosexual dream man," as many discussions of Roy's character have, re-centers masculinity in the conversation around Roy's anger. I think this is why, even though the show does position Roy as a romantic lead, I've found myself bristling at articles like this recent one from Paste Magazine. I can't say that the interpretation of Roy as a "dream man" is totally wrong; the show does set up Roy as a romantic lead and asks us to invest in his relationship with Keely. And he is pretty dreamy. But because I am the Roy Kent in my relationship, I guess I see it from a different point of view. (I'm lucky enough to have found my Keely—now there's a dream man.) I know firsthand how hard a relationship with someone like me can be. It's disconcerting to see the work Roy and Keely do together in their relationship simplified to fit a "patient woman trains an emotionally illiterate man" narrative that doesn't do justice to the complexity of their dynamic.
I was frustrated with Roy's season two arc for the first four episodes, mainly because it leaned so heavily into the "dream man" characterization. Keely was his sole narrative link to the AFC Richmond orbit proper, and it wasn't clear if Roy would continue to fit into the show as anything other than Keely's perfect boyfriend. There are moments, in these first four episodes, that seem designed to generate swoons on Twitter. Some of these moments work as thoughtful character beats, like the one where… well, you know exactly what scene I'm thinking about right now. Others didn't land so well for me—take, for example, Roy's outburst in S02E01 where he tells Rebecca not to settle for fine in her love life, that she deserves someone who makes her feel like she's been "struck by fucking lightning." (Yes, Roy's always taken no bullshit, but a relationship pep talk? From a man who repeatedly refuses to join the Diamond Dogs in session?) After retirement, Roy seemed adrift as a character, and I wasn't sure if the writers were intentionally cultivating this sense or not.
And then, in S02E05 ("Rainbow"), Roy came roaring back. "Rainbow" is an undeniably Roy-centric episode that might best be described, in more ways than one, as "the one where Roy Kent returns." Anyone with a shred of sense probably knew that Roy was likely going to come back to AFC Richmond as a coach; narratively, it's the best way to keep Roy in the action without back pedaling his retirement arc, and it's established in season one that Roy is a natural leader and an effective coach, albeit of small children. The whole episode works as a spin on the romcom formula, but instead of two lovers making their way to each other, Roy finally shows up for his date with coaching destiny.
How fitting that Roy's big romcom moment is not, after all, with Keely, but with himself. "Rainbow" ingeniously subverts expectations by, once again, refraining from slotting Roy into a heterosexual, gendered role. He embraces his ultimate vulnerability not by committing to a romantic relationship or admitting romantic love (the stereotypical fear of straight men everywhere); instead, he admits that he can't live without football, a sport that's broken his heart and will undoubtedly do so again. Instead of angrily rejecting a career as a football coach to protect himself from further pain, as he has been doing up to this point in season two, he commits to the sport that he loves—a sport that, as Nate reminded him before the Liverpool game, requires his full, angry brilliance.
I love the way Ted Lasso explores the paradox of the anger at Roy Kent's core and his complicated anger issues. It only works so well because it does just what Judy Berman calls for: it explores a man's emotional reeducation beyond the framework of the gender binary.
*While the fastidiously waxed Jamie Tartt (Phil Dunster) makes some cracks about Roy's chest hair, the camera frequently and admiringly lingers on Brett Goldstein's shirtless body in the locker room scenes. Unfortunately, the now retired Roy is more frequently clothed in season two.
**Refreshingly, Keely isn't defined by this romance, either, at least not in season one. While season two has, so far, mostly focused on Roy and Keely as a happy couple, I hope that future episodes will complicate their dynamic a little bit. In a recent interview with Vanity Fair, Goldstein said of Roy's post-footballer season two arc: "[Roy's] not going to kill himself, it's not the end of the world. But I think we can already see there's a danger in how much he's investing in his relationship with Keeley versus the rest of his life."
***One of my good friends got the rough draft/seed-of-an-idea version of this essay via text when she unsuspectingly messaged me about Ted Lasso a few days after I finished season one. She was like, I just started watching Ted Lasso, it's so good. Roy Kent is the best! I replied with a casual, Oh cool, I might identify with Roy Kent to an unhealthy degree because I've never seen a character with anger issues like mine who isn't an asshole abuser, and it's making me really emotional! As Rebecca said in S02E02, "That's why you have friends, isn't it? To burden them with your issues and anxieties, right?"
****Ted Lasso is a smartly written show, and I really don't think I'm giving the writers too much credit here. So much of what makes Ted Lasso work operates in the subtext. I love this choice partially because the series is a comedy and exists, first and foremost, to be funny, but I also love it because it's tiresome to be constantly hit over the head with Important Themes and Lessons.